Institutional Building. The Bank of Montreal is a highly decorated sandstone structure executed in the Beaux-Arts style in 1885 to the designs of Darling and Curry Architects. The building reopened in 1993 as the Hockey Hall of Fame.
As part of the BCE Project led by B+H Architects and SOM Architects we were retained to restore the Bank of Montreal, the adjacent Yonge and Wellington Street facades and the Midland Bank Building.
Exterior - specialised masonry conservation; new insulated built-up roof assembly including extensive sheet lead weatherings and lead-coated copper flashings; wrought-iron fence restoration.
Interior - stained glass conservation; paint analysis and heritage finishes restoration; entrance door and vestibule restoration; lantern and skylight conservation. Ceiling and wall plaster stabilization and restoration
In 2021 we were retained by Brookfield Properties to review the condition of the exterior masonry and provide recommendations for maintenance and repair. The report included site-photography, in-house laboratory studies of mortar and stone, research of third-party academic reports and a Class B Estimate of repair costs.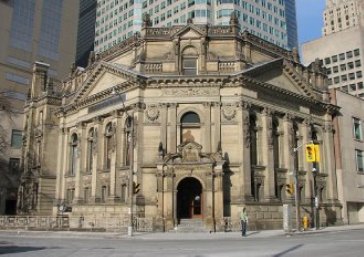 Bank of Montreal, Hockey Hall of Fame, Toronto
Corner of Yonge and Front Streets - 2008 (Wikipedia)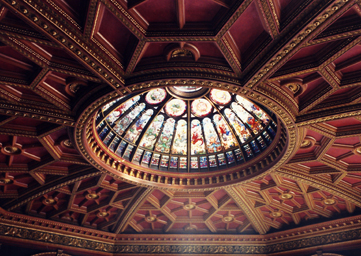 Bank of Montreal, Hockey Hall of Fame, Toronto
Ceiling and Stained Glass Skylight - 1992