Located at 416 Centre Street South, and constructed in 1853-54 in the Town of Whitby, the Ontario County CourtHouse since 1967 has been known as the Centennial Building. The building is currently in use as a performance theatre and community centre. SHA was retained by the Town of Whitby to assess the condition of the Classic Revival-style building exterior, determine the source of moisture infiltration to the masonry foundations and design and carry out remedial work.
Investigations determined that masonry restoration, repointing and cleaning to the east entrance portico, including a new sheet lead roof on the pediment would stabilize and protect the main stone frontispiece.
Given an excess of rainwater run-off onto the east lawn, new rainwater leaders, regrading of the site and new manhole catchbasins were recommended to be installed to divert water away from the foundations. Original wood windows in the portico were recommended for sash repair and glass reinstallation.
On-site condition assessment and Report, preparation of Tender Documents, Tendering and Contract Administration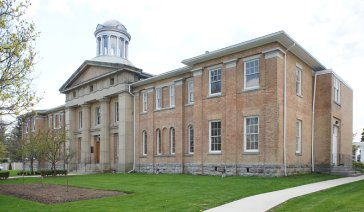 Centennial Building, Whitby
2016 (Photo SHA)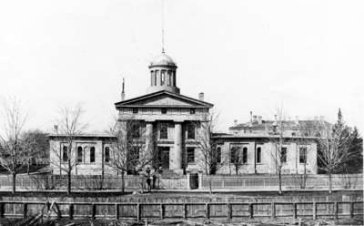 Ontario County Courthouse, Whitby
1895 (Whitby Archives)