John Howard built Colborne Lodge in 1837 and named the residence after Sir John Colborne, Lieutenant-Governor of Upper Canada. In 1873, Mr. Howard and his wife deeded their 165-acre country property (now High Park) to the City of Toronto. This Regency-era lakeside summer cottage holds an original collection of art, architectural drawings, and the inventions and stories of their lives. Colborne Lodge is a rare North American example of a Regency picturesque building with a wide veranda opening onto views of the Lake.
In 2017 SHA was retained by Toronto Museums and Cultural Services to carry out repairs and restoration of the building. Since that time several projects have been undertaken, including the preparation of an Historic Building Condition Report, measured drawings, repair of the basement walls, exterior landscape work, provision AODA compliant exterior access, a new staff kitchenette and replacement of various mechanical and electrical services.
A building condition report and measured drawings were prepared to advise on a programme of repair and restoration. The construction contract included stabilization and repair of the brick foundation walls and upgrades to the existing mechanical room and kitchenette. The necessary adjustment of grade levels around the building resulted in the rebuilding of the access ramps.
The work included brickwork repair, plaster repair, historically appropriate woodwork and a modern staff kitchenette, foundation wall waterproofing, provision of a new mechancial room containing HVAC and fire-safety equipment and upgraded electrical services.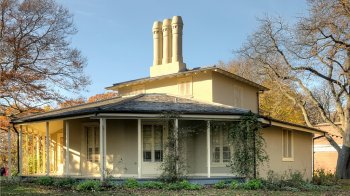 Colborne Lodge, High Park, Toronto, Ontario
South elevation - 2021 (Photo:SHA)
Link to Colborne Lodge