The John Howard Monument sits across from Colborne Lodge in High Park on a manicured plot of parkland on the south side of Colborne Lodge Drive. The monument sits on a grassed promentory which drops off into a forested area beyond.
The monument consists of a massive granite fieldstone pedestal surmounted with a short blue-grey Vermont marble shaft faced with composite-order pilasters, on top of which sits a marble Celtic cross. A vertical marble headstone with finial is set slightly infront of the pedestal at grade.
John Howard designed and erected the Howard monument in 1875, well in advance of his demise and had probably done so to ensure that the work was properly executed. One of the more interesting aspects of the monument is the north-side iron railing, the design of which is attributed to Christopher Wren. The sections of railing once formed part of the railing that enclosed the St. Paul's Cathedral Yard in London, England and were purchased by Howard for his monument.



Our office was retained by Toronto Museum and Heritage Services in 2017 to prepare Measured Drawings and an Historic Structure Report on the condition of the railing, and make recommendations for its repair.
A project to disassemble the railing and upper section of the stone foundation was completed in 2020. The railing components were repaired, cleaned and repainted in a dark green colour similar to that found in a watercolour by Howard. The engraved brass plates were cleaned, inpainted and lacquered.
The Ohio sandstone sill blocks were repaired and reset, and the previously rebuilt brick end-piers were reconstructed in their original form.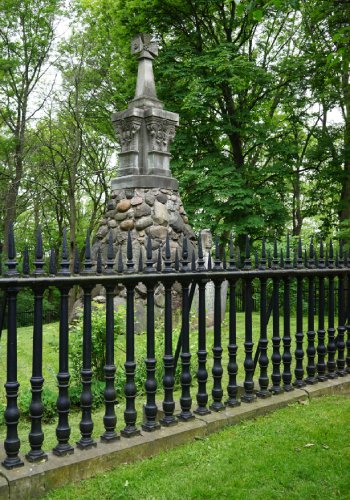 John howard Monument, High Park, Toronto, Ontario
View of Monument and Railing - 2020 (Photo:SHA)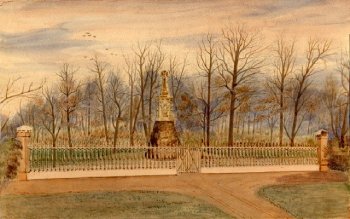 Watercolour by john Howard - 1870
Toronto Public Library collection