The Saskatchewan Legislative Building is the premier heritage building in the Province of Saskatchewan and an important landmark in the City of Regina. Designed by the leading Montreal firm of Edward and W. S. Maxwell, construction began in 1908 and was completed in 1912. The building's three-story elongated cruciform structure is surmounted by a tower and a dome, and combines Beaux Arts planning with English Baroque elements.
As the architectural conservation specialist consultant to the project manager, Brownlee Beaton Kreke Consulting Engineers of Regina, our first task was to prepare a comprehensive Conservation Strategy Report (1998), assessing the condition of the architectural fabric.
Our firm developed a strategy for the conservation of the building in order of priority, and quantified and costed of all conservation work. In addition, we prepared a comprehensive set of measured base drawings of the envelope and completed a condition survey of the masonry and roofing.
Three phases of recommended work have been completed: Foundation Stabilization (1999); Life Safety and Accessibility Upgrades (2001); and Mechanical and Electrical Upgrades (2003), all led by Brownlee Beaton Kreke. An investigations package for the masonry and roofing conservation work to the exterior envelope was completed in 2008.
After completion of an RFP process our firm was appointed in 2012 as prime consultant for the $20m Tower Conservation project, which is underway and expected to be substantially competed by September 2016. Michael McLeod has acted for the last two years as our site resident clerk-of-works, with Chris Daniels our resident site conservator (ArconTEST).
Interior work on this phase of the project has included marble and plaster repairs within the ornamental inner dome as well as provision of access staging within the tower for new mechanical services installed as part of the Tower repair project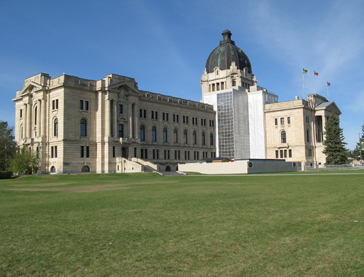 Saskatchewan Legislature, Regina
Masonry Investigations- 2008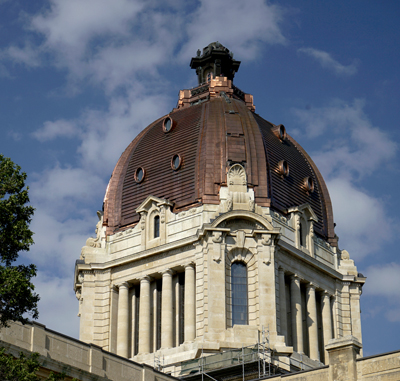 Saskatchewan Legislature, Regina
Tower - 2016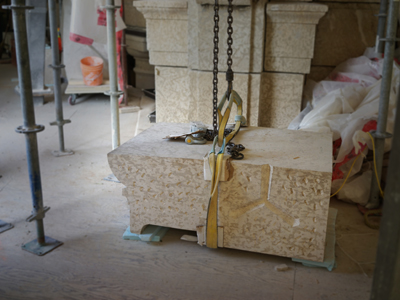 Tyndall Limestone Cornice Block Replacement - 2013