The Toronto Club is a building designated under the Ontario Heritage Act as being of Provincial heritage significance. The building is of a curious style, influenced by Italian Renaissance palazzi. The original 1889 building was designed by architect Frank Darling, with additions in 1912 by the successor firm of Darling and Pearson, and later alterations in the 1930s by Vaux and Bryan Chadwick. Major alterations and additions to the building were made by the firm of Mathers and Haldenby Architects in the 1980s.
Our firm was retained by the Toronto Club in 2016 to advise on a programme of exterior repairs. Subsequently several projects were undertaken to repair the rubble stone foundations, restore the exterior walling and windows, restore missing ironwork and replace the copper roofs in the original slate.
An initial project to repair the Wellington and York Street foundation and base masonry included perimeter excavation to the footings, partial underpinning, selective rebuilding, full deep repointing, injection grouting, parging, insulation and waterproofing. Deteriorated main entrance stair masonry was replaced and new handrails installed. The interior face of the basement walls was cleaned and repointed.
The second phase of work included repair and seismic upgrading of the upper brickwork, rebuilding of window arches and related repointing using a soft hydraulic lime mortar tinted purple with Hematite to match the original. The deteriorated metal cornice and support structure was rebuilt and clad with a aggregate-finished copper cornice matching the terra-cotta. The east-end of the deteriorated lower stone cornice was replaced with Callow Hill sandstone.
The York Street ornamental ironwork was taken down and reinstalled over rebuilt balconettes matching the original. The missing northwest corner balcony balustrade ironwork and original main entrance ironwork were repaired and restored to its original form and green colour.
The roofwork consisted of the installation of an air-barrier over the wood roof decks, insulation and a Vermont green non-fading slate roof laid on battens. All flashings and gutters were replaced in copper and lead. The chimneys were taken down and rebuilt with seismic reinforcement. The chimney caps were restored to their original form with moulded Callow Hill sandstone. The 1980s copper roofs were re-laid over insulated steel decks.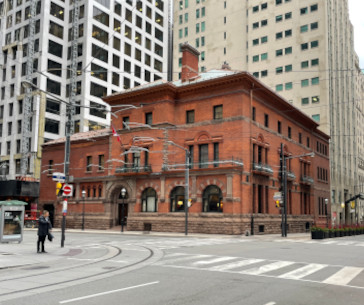 The Toronto Club, Toronto, Ontario
2021 (Photo:SHA)
The Toronto Club, c1900
Tinted postcard