Constructed in 1890 in the City of Toronto, the building was originally designed as the residence of George Gooderham of Gooderham and Worts Distillery. The York Club has occupied the building as a private club since 1909. The building is currently used as a social club providing members with dining and private meeting rooms.
Our firm was retained by the York Club in 2017 to prepare an Historic Structures Report (HSR) outlining the condition of this Richardsonian Romanesque-style building. Subsquently, SHA designed and supervised the restoration of the Southeast Gable, the conservation of the Porte-Cochere masonry and an extensive Life Safety Upgrade to the basement of the Club.
Investigations determined that masonry restoration, cleaning and masonry replacements were required on the building due to the life-safety issues posed by the crumbling Portage Entry red sandstone masonry. The southeast gable masonry was stabilised and decorative carvings conserved in-situ.
The second phase of work was the conservation of the severely deteriorated porte-cochere parapet masonry. SHA provided full design and supervision services for the repair of the stonework which included stone sourcing and replacement, structural grouting, stone consolidation, extensive lead cap flashings and new roofing.
The third phase of work consisted of Life Safety upgrades to the boiler room and adjacent basement service rooms. The steam boiler system needed to be properly isolated from the rest of the building by a code-compliant fire-rated room. To comply with current code and safety standards the room had to be supplied combustion and ventilation air and a steam release system, which was challenging because of the central location of the boiler room with no direct access to the exterior.

The York Club, Toronto, Ontario
2017 (Photo:SHA)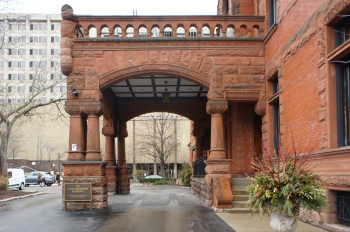 Portage Entry Red Sandstone Porte-Cochere
2017 (Photo:SHA)